About the LAA
The Leominster Art Association is a community art group based in Leominster, with members from around the central MA region.
Membership is open to anyone interested in the arts and includes monthly meetings and demonstrations as well as opportunities to participate in member exhibits and events. The LAA is a great place to connect with area artists, make new friends and learn some new techniques.
Join us at one of our monthly meetings held on the 3rd Tuesday of each month and your $5 guest donation will be applied toward membership.
__________________________________________________________________________________________________
NEXT MONTHLY MEETING IS TUESDAY, NOVERMBER 20, 2018, FEATURING WATERCOLOR ARTIST, KARA K. BIGDA
Please join us from 7:00- 9:00 at the Congregational Church of Christ 583 Main St. (Rte. 13) in Leominster, MA.
Kara Bigda:  www.karabigda.com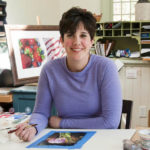 Kara graduated from Amherst College with a fine arts degree in 1991 and has worked in both education and the insurance industry.  In 2008, after 10 years of employment as an art teacher in the Quabbin Regional School District, Kara resigned from teaching in order to focus her time on painting.  After experimenting with acrylics, design, collage and printmaking, she committed herself to watercolor in 2011.  Since that time Kara has continued to paint, blog, teach watercolor to adults as well as exhibit her work in various juried shows and solo exhibitions.  She continues to think of new ways in which to use her fine art watercolor paintings on notecards, giclees, belt buckles, calendars, fabric and other gift items.  In 2016 she designed and self-published an adult coloring book, Coloring Peace, A Fine Art Coloring Book, which can be ordered through her website or directly through amazon.com.